By ShowMeTheMoney | October 15, 2007
The BlueHatSeo site is giving me sleepless nights. I stayed up far too late last night printing stuff off from the site. You really need to print this stuff off and read and re-read it about six times before you get that ah-ha moment (either that or you just hit your head on the desk a few times). My office is a sea of paper with me buried in the middle of it.
In between all this burning the midnight oil  I ran across a nice article on web site flipping (see a post of mine way, way back) over at Sitepoint. Worth a read. (Actually you may also of noticed that Ed Dale is running his Dominiche course again on the same subject, highly recommended).
Topics: Uncategorized | No Comments »
By ShowMeTheMoney | October 15, 2007
Following on from my last post there is an interesting interview with Eli from BlueHatSeo over on the SEOBook.com. Worth a read just for his insight into the way the search engines are heading.
Topics: Uncategorized | No Comments »
By ShowMeTheMoney | October 14, 2007
Thinking outside the box is a much over used expression these days. Having said that I've been immersed in the posts over at Blue Hat SEO for the last day or so. The statement definitely applies here. Elis blog is not for the faint hearted, lets just say you may find some of the techniques he uses (very!) Ethically challenging. I dont agree with everything he gets up to but its a hugely entertaining read. To be honest I have a hard time understanding some of the stuff he outlines, it can be fairly mind blowing to mere mortals. To actually apply a lot of the techniques youll also need a good understanding of a scripting language like PHP or perl so again the site is not for everybody. Coming from a software development background I think I may just be dusting off some of my programming skills again in the not to distant future. I cant think of anywhere else on the net where you can get a better insight into SEO as applied to actually making money with sites. Certainly a challenging read but hugely recommended if your brain can take it!
Topics: Uncategorized | No Comments »
By ShowMeTheMoney | October 9, 2007
If youre a frequent visitor here (and I hope you are!) youll have noticed that  Affiliate Monkeys has just undergone a major WordPress theme change. Yes weve gone all Web2.0 on you.. to be honest much as I loved the old site theme, after two years I felt it was looking a little tired. I also wanted to take advantage of the new features of WordPress 2.3, some of which the old theme didnt support. Things are still evolving with regards to the theme so expect more changes over the next few days. Hope you like it!
Topics: Uncategorized | No Comments »
By ShowMeTheMoney | October 7, 2007
Tracking the behaviour of visitors to your websites and landing pages can make all the difference between being profitable or not. One new site I've come across promises to "visualize" your visitors! Go take a look at CrazyEgg for more details!
Another place I've found an interesting read of late is Uberaffiliate. Blogs about affiliate marketing come and go but I get the feeling with the quality of posts and insight available on this one it'll be around for a long time to come. Highly recommended.
Topics: Uncategorized | No Comments »
By ShowMeTheMoney | October 4, 2007
I read recently that the average length of time someone tries to make money from internet marketing is less than 12 months. Having said that there does seem to be an inexhaustible supply of newbies throwing themselves in at the deep end and drowning. Just look at the number of Google Adwords ads for any given Clickbank product. Two years ago it was relatively easy to find a niche and advertise a product as a Clickbank affiliate on Adwords. Youd probably have a few other people advertising the same or similar  products. These days youll be one of about two hundred! Dont get me wrong, competition is good, just not at this volume. Its great for the product vendors and Google, not so great for the advertisers shovelling cash down Googles  profit funnel!  I guess in the long run its always better to be selling the picks and shovels than actually doing the mining..
We are well into the Autumn season now and if you subscribe to any marketing mailing lists youll have seen the corresponding surge in new product launches! Expect the deluge to grow until just before xmas! I havent seen anything too interesting yet, its pretty much run of the mill stuff and nothing from any of the big guns of the internet marketing world yet.
On a different  note a nice resource Ive come across recently is wikinvest. Its another  good place to pick up ideas about up and coming trends and companies on the internet.
Topics: Uncategorized | No Comments »
By ShowMeTheMoney | October 2, 2007
I was playing around with Google's free 3D Modelling software, Sketch Up, the other day. I dont have a massive interest in 3D, but its free and I thought what the hell. I might not have much of an interest but its amazing what people are using Google Sketch Up for. There is a big market for people looking for house and garden plans and designs. I sort of already have a foot in the design camp by having a Log Cabin building related site that does some modest traffic on cabin plans. On both sides of the Atlantic there is a great deal of interest in self build and its definitely a growing niche with lots of potential if you can find a way to tap into it.
Sketch Up Demo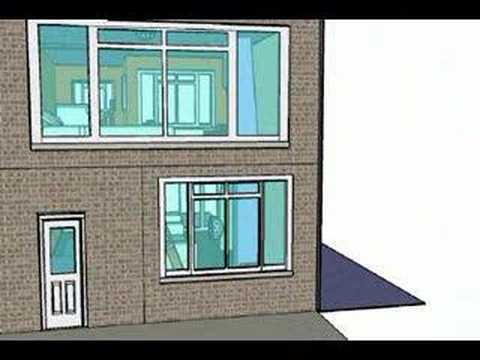 Topics: Uncategorized | No Comments »
By ShowMeTheMoney | September 23, 2007
Continuing on a market research theme, TechCrunch and TechCrunch UK are worth a mention. They focus on new internet / mobile products and companies. If you want to know whats hot or not in terms of start-ups and where the money is being invested in the online world at the moment then check them out
Topics: Uncategorized | No Comments »
By ShowMeTheMoney | September 21, 2007
You may think Google Earth (and Google Maps) is a strange topic for an affiliate marketing blog, not so! In all areas of its online activities youll find Google is looking to maximise its returns from contextual advertising.  Online mapping has seen a phenomenal growth in the last couple of years. The big players are Google Earth/Maps  and Microsofts Virtual Earth/Live search maps. Offerings from both companies are of course free (Google Earth in particular is a fairly amazing technical accomplishment. Its one of the few pieces of free software released in the past couple of years which induced a genuine wow factor from me!).
Where it gets really interesting in terms of marketing is when you marry up a superb online mapping service with internet and GPS enabled hand held devices.  You can see where all this is heading…the  possibilities for  advertising based on being in a particular physical location (or the area of a map youre  looking at!) are endless. All the indications are that this type of advertising is going to be increasingly common feature (and maybe an annoyance as well!) on the hand held device of the very near future, be it a phone, a PDA or whatever else we may be using. Its certainly an area where someone is going to capitalise on the new marketing opportunities the technology brings…..
Topics: Uncategorized | No Comments »
By ShowMeTheMoney | September 18, 2007
Just a quick note. John Reese has released the first element in his income.com strategy. Its called Blog rush. I wont try and explain it myself, youre better off heading over there and taking a look at the help page / videos. I've implemented the script on this site, you'll find it down on the right below the clock. I am already seeing some more traffic coming in so hopefully thats going to continue. Give it a try…
Topics: Uncategorized | No Comments »
« Previous Entries
Next Entries »